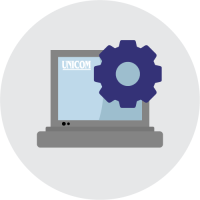 Our technical team can create custom-made solutions and design (web-)applications to help control the constantly growing traffic of goods.
Our ERP inventory management system, which is now in its third generation, helps to simplify the contact between sales, suppliers, and producers. The system can help monitor the overview of all events at all times in the movement of goods and provide customers with a targeted forecast of the delivery of goods.
In collaboration with one of our major customers, the system is constantly being expanded and improved and it is now under complete redevelopment. One of the goals of this last improvement is even greater flexibility, in order for the system to handle a wide variety of scenarios.
While we always focus on customer- and supplier-oriented solutions, we thrive to make constant adjustments to take into account the wishes and feedback of our customers.